Chapter #8 Getting Her Digits or iChat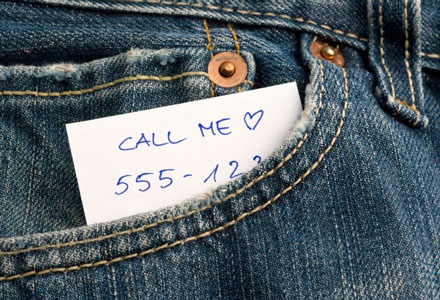 After you've established contact via email or onsite messaging, your primary focus should be on getting the woman your pursuing to give you her digits or iChat. The reason for this is simple: it builds fast feelings of familiarity and trust that are much harder to establish via email. And the sooner she feels like she knows you, the sooner she'll be ready and willing to meet up with you in person for sex. Here are some surefire ways to score her phone number or iChat info fast.

Pull Her into an Interesting Story
One of the best ways to get most women on the phone or iChat is to pull them into an interesting story. By making open-ended comments that inspire intrigue or curiosity, you'll get her to ask questions to get you to elaborate. Once she's done that, you can tell her you'd love to tell her all about it, but it's too much to type, and ask if it would be okay if you called her to continue the conversation. This is enough to get most women on the phone with you quickly, and it has the added benefit of building trust and rapport.
Use Discretion as an Excuse
This one is better for phone than iChat, and it tends to work very well with married women. Tell her that you're at work, or in a public place, anywhere that your screen could easily be seen by other people. You can then say that for the sake of discretion, it would be better to text, or better yet, you could step outside to take a phone call. Since she'll be just as likely as you to want to keep your activities on the down-low, chances are high that she'll give you her phone number in order to keep your communications private.



Make It All About Her
Another great tactic that works on almost all women is to make it all about her. You can tell her that you'd love to hear her voice or chat via video, so you can see each other while you talk. Tell her you're dying to get to know her better, and you feel like it's so much easier to get a feel for someone this way than it is via email. She'll be flattered that you're so interested in her, and chances are high that she'll be very curious about you at this point.
The bottom line is that most women who are genuinely interested in having an affair with you won't make it terribly hard to get in touch with them. They'll want to get to know you better and will crave the type of personal contact you're offering. If a woman is hesitant to give you her phone number or iChat with these techniques, take it as a red flag and move on. If she's that scared of a phone call or face-time chatting, what are the chances that she's going to be comfortable meeting you in person any time soon? Remember, you're looking for the type of woman who is eager to meet up for sex and will actually follow through. This step of the process makes a great screening tool to figure out how likely it is that you're going to get to that point quickly.