Married Café Review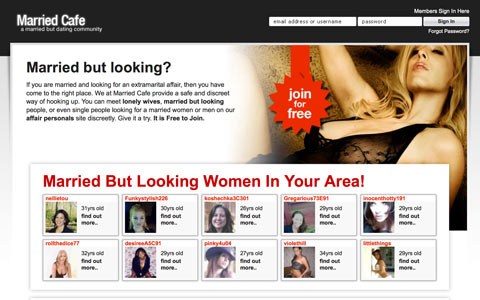 Married Café left our testers speechless, and not in a good way. The men testing the site are all experienced users of cheating sites, and they're all pretty savvy. Typically, these guys can sniff out a scam a mile away. Upon sign-up, they all believed that Married Café had all of the markings of a legit married dating website. Two months later, they knew that they couldn't have been more wrong in their assessment.

A Carefully Crafted Deception
The only thing we could give Married Café credit for was the amount of time and money that must have gone into creating such a convincing scam site. They must be making money hand over fist from unsuspecting men, because they'd never invest that sort of energy if they weren't getting a major pay-off from the guys they're screwing over. While the site has all of the reassuring markers of a legit cheating site, it's just a front to separate you from your money, and given the amount of men on the site, it appears to be working quite well.
Fake Profile Spotting Just Got More Difficult
Typically, what separates the experienced cheating site user from the novice is the ability to spot a fake profile at a glance. If you've been around the block a time or two, it's usually easy. Avoiding the chicks that look too good to be true, with magazine-worthy looks is enough to keep you in the clear. Not so on Married Café! Our testers all contacted only those women who were good looking, but in a normal, real, everyday sort of way. The site creators must have stolen a hell of a lot of pictures from pretty women from around the web, because even most of these normal looking women turned out to be nothing more than lures linked to dead profiles.
Unacceptable Billing Mistakes
As if it isn't awful enough to realize that you're not going to get anything out of a cheating site after paying your membership fees for the month… On top of this infuriating revelation, we also encountered unacceptable billing mistakes. On one occasion we were double billed, and on another we got charged for the month after we had already canceled. We had absolutely zero luck in getting anyone to respond to our complaints and requests for refunds, so we ended up eating the extra costs.
Two Months and Zero Hookups
Over the course of two months, none of the three testers using Married Café ended up having a single hookup. Even on some of the worst sites we tested, there were at least one or two sexual encounters, so this definitely classifies the site as being one of the worst of the worst! Our guys were never able to initiate contact with a woman of their choosing that didn't end up being a hooker or other scam artist. While they did have a few women try to initiate contact with them, they were all so unattractive that the testers had absolutely no interest in meeting them.
Consider this your warning. Nothing good will ever come out of joining Married Café. You'll lose money and waste valuable time. Not only will you lose the cost of your membership fee, there's a good chance you'll be charged above and beyond that, with no chance of getting the money back. There are some really great cheating sites out there, so there's absolutely no reason to use this one. Heck, even if there weren't good cheating sites, you'd be better off trying to find affairs in nightclubs than you would on this site. Be sure to check out our positive site reviews to find the places you'll find real, attractive mature married women for affairs.

Tags: does Married Cafe work, is Married Cafe legit, Married Cafe review, married dating, married dating sites