Marital Affair Review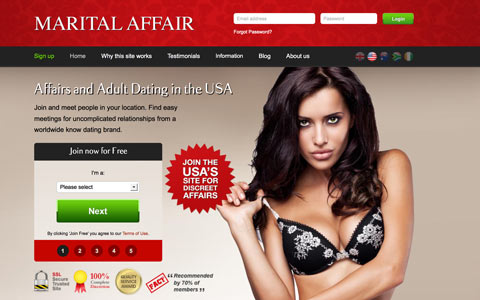 When we set out to review as many sites as possible to help men find the highest volume of beautiful, mature married women for affairs, of course we thought that given the site name, Marital Affair should be at the top of our list. And while we weren't foolish enough to believe that the gorgeous, airbrushed model on the home page could possibly be representative of the way the real women using the site really looked, we were impressed with the overall design. It didn't appear to be a cheaply slapped together rip-off site, and the FAQ and About Us pages were professional and well written, so we thought there was a good chance that our testers would find quality affairs.

Free for Women
We weren't sure how we felt about the fact that the site offers free membership to women, while men have to pony up the money if they want to access the features that make the site usable, because it seemed like something that could either work for us, or against us. On the one hand, it's blatantly unfair and sexist, but on the other hand, it could mean that there would be more women utilizing the site, making it easier for our testers to find affairs. In the end, this site feature turned out to be awful for a couple of reasons. The first reason is that it lets more con artists through the gate, because they don't have to pay to slap up profiles. The second reason is that when it came to the real women using the site, it lowered the quality of the women considerably.
Broke, Desperate Women Looking for Men to Use
A high class woman looking for a high quality affair won't balk at spending thirty or forty bucks for a membership to a cheating site. Our testers found that a lot of the women floating in on the free membership ticket looked like they had crawled straight out of the trailer park or the projects. Upon reading their profiles, it became obvious that they weren't just looking for affairs for sexual release and fun, they were looking for sugar daddies to treat them to the sort of lifestyle that their loser husbands couldn't provide. Given that our guys are all married and supporting families, they already have enough people vying for their money! These gold diggers were relentless, emailing multiple times and strongly hinting at what they'd like in exchange for sex.
Fugly is Never Sexy
Not only were most of the women on Marital Affair looking for a guy to buy things for them and take them to expensive places, most of them didn't have the looks to back it up! While I am sure that there are guys out there who are desperate or naïve enough to spend their hard earned money in exchange for sex with nasty women, are testers weren't having it. After having reviewed sites where they effortlessly found affairs with beautiful cougars who didn't expect a handout, they already knew there were better ways to get laid.
Keep Your Wallet Locked Up
Guys, listen up! you don't have to spend a fortune to have affairs with lonely housewives. Just take a look at our positive site reviews and you'll quickly realize that this there are plenty of desperate, horny MILFs out there, dying for great sex, and not expecting material gifts in exchange for it. Our advice is to steer clear of Marital Affair entirely. Should you decide not to heed the warning, at the very least, lock up your wallet before you meet up with any of these scheming ladies. If they won't put out without expensive gifts or meals in fancy restaurants, run in the other direction.

Tags: affair dating sites, does MaritalAffair work, is MaritalAffair a scam, MaritalAffair review, married dating sites