Chapter #10 Setting Up a Date and Closing the Deal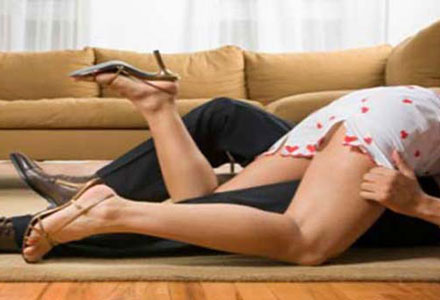 Setting up a date and closing the deal is the whole purpose of this married dating guide. Everything you've learned in the previous nine chapters has brought you to this point. So you're down to the wire now, and everything hinges on this final step. Don't stress. If you gotten this far, you're doing it right, and the rest will be easy. We highly recommend you bookmark this chapter and read through it a few times, including right before you got on your date. Over time everything we teach here will become second nature.
Timing and Taking it Fast
While conventional dating advice is all about taking it slow, finding an affair is a different matter altogether. Timing is still important, but you're not in this for love, you're in it for fast, satisfying, no strings sex, and the more time you spend "just talking" the more likely it is that you're never going to move beyond just talking. You should be setting up a date by the second communication you have with a woman, the third at the latest. Anything more than that and you're just wasting your time.
Asking for a Date
In the last step, you learned how to get a woman's digits or iChat. The first time you use them, it should be with the purpose of setting up a time and place to meet. Most women have a much harder time saying no when they're talking to you than they do via email, so using the phone or iChat to ask is preferable to asking via email. Don't ask first thing, spend at least several minutes talking about other things before you drop the question about meeting up. This will give her the chance to feel like she's gotten to know you, and will make her feel more comfortable about meeting in person. It's a great way to wrap up the conversation.



Establishing a Time and Place
Most women are going to feel safer meeting for the first time in a public place. It might sound silly, but this is actually safer for you, too, since typically the only women who will want to meet you privately for a first encounter are hookers with pimps waiting to take your wallet. You should be the one to suggest a location, because this gives you leverage in engineering a situation that's ideal for sealing the deal. You don't want to end up taking her to dinner and a movie. Your best bet is a bar in or near a hotel. That way you can spend half an hour or so flirting over drinks, and then when it's time to make your move to take her to bed, it will be fast and easy to get a room without giving her too much time to think. This means that she'll be more likely to act on desire, rather than getting nervous about getting caught or having guilt and remorse about what she's about to do make her change her mind.
The Magical 30 Minute Window
The first 30 minutes after you meet a woman is the magical window in which you establish rapport, make her feel safe and comfortable, and get her turned on enough to want to sleep with you. It sounds like a tall order, but you've already laid the groundwork, so it won't be hard. Order a drink for both of you, it will help you feel calm and relaxed, but stop at one. The idea is for both of you to loosen up, not get wasted. Sit close enough to her that it's easy to have physical contact. Tell her she's even more attractive in person than she is in pictures. Make conversation by asking her a few questions about herself and find some common ground to form a connection. Brush her hand or touch her shoulder when you're talking to her. Let your legs touch under the table. When she starts leaning in and returning this sort of casual physical contact, you can whisper in her ear that you'd like to go somewhere more private.
By reading her cues, you'll know when the time is right, and chances are high that she'll be as ready to get it on as you. Use the walk to the hotel room as foreplay. Hold her hand, or guide her by placing your hand on the small of her back. You'll have her naked in no time flat. This is how you successfully seal the deal with a woman you've just met. It works every time.